Spring brings all the beautiful blooms…and the pollen…and the sniffles and sneezing. Allergy season is in full swing. Fear not, we have some of the best products to help you power through.
Enter the Miele vacuum, arguably the best in the business. You can't go wrong with any of them, but we highly recommend the C3 Series. One of our favorites is the Complete C3 Kona, which delivers unparalleled performance, durability, and technology.
Features:
1,200-watt Miele-Made Vortex Motor

6-setting suction control via +/- controls
Exclusive AirClean Sealed System
Type GN AirClean FilterBag, 4.76 quart
HEPA AirClean Filter (HA 50)
Electro Plus Floorhead (SEB 228)
Parquet Twister Floorhead (SBB 300-3)
Integrated Dusting Brush, Upholstery , & Crevice Tool

36 ft cleaning radius
Reviewed.com rates the Miele C3 Series as the Best Overall, saying:
"Yes, the German-made Miele Complete C3 Kona might be expensive, but after extensive testing in our vacuum cleaner lab, we think it is the best vacuum you can buy.

This bagged canister vacuum is lightweight and quiet, but it's also quite powerful. In our tests, the Kona simply captured more dirt than its competitors. That was true whether we measured how much dust it got out of thick carpet, or how much debris it cleaned off bare floors.

Every Miele we've tested feels well designed and sturdily built, and the Kona is no exception. Nothing feels cheap or wobbly, and it glides across floors with ease. We especially like how its wand is weighted, so it doesn't tip over when you walk away from vacuuming.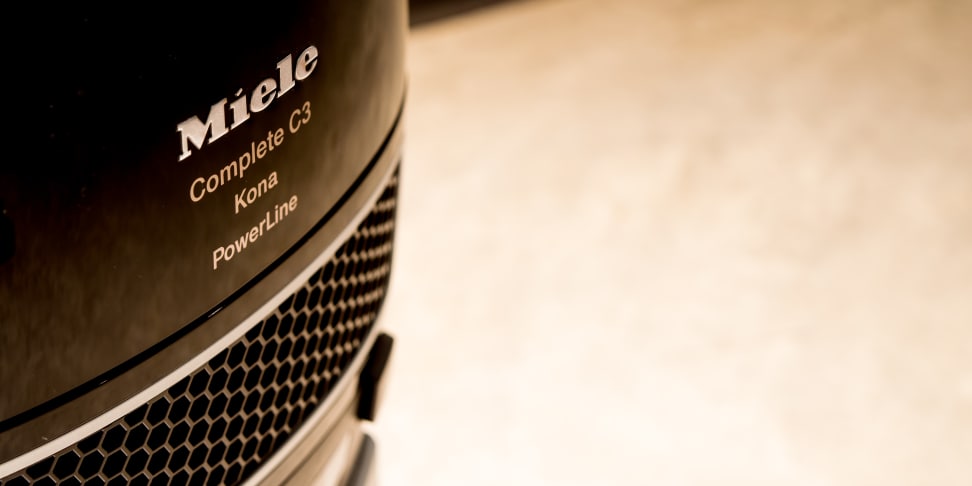 Still, we prefer the Kona to other Miele vacuums. Miele makes several C3 vacuums, ranging from a $650 model with an air-powered brush all the way to a $1,500 model with LED lighting. The Kona sits in the middle of the lineup, but includes a powered brush for rooting dirt out of thick carpets, a telescoping wand for cleaning hard-to-reach corners, a hardwood floor brush, and a combination dusting brush, upholstery tool, and crevice nozzle

When cleaning is done, all those attachments store onboard—even the powered Electro Plus wand slots right into the body. There's even a seven year warranty on the motor."
Come by AllSouth to check out the complete C3 Series and see which one is right for you!